How to Clean a Car Windshield Inside
Most drivers know how to clean the outside of their windshield, but trying to clean the car windshield inside the vehicle can present a bit more of a challenge. To clean the inside of a car windshield, you'll need a microfiber towel, glass cleaner, and rubbing alcohol. Once you have everything you need, simply follow the steps provided below. Learn more about car detailing with BMW Concord.
How to Clean Inside Car Windows
To enhance visibility on the Lafayette roads, a clean windshield is necessary:
First, wipe down the glass with a microfiber cleaning cloth. This will help to get rid of any residue or dirt that's on the windshield.
Spray your preferred brand of glass cleaner on the microfiber cleaning cloth and wipe down the inside of the windshield. If there is anything left on the windshield after wiping it down with the microfiber cloth, this step should take care of it.
Apply rubbing alcohol to a clean microfiber cloth and wipe down the inside of the window. This will help to cut through any grease that can be difficult to remove with just a glass cleaner alone.
To ensure that your windshield really shines, consider using another round of glass cleaner or a glass polish as a finishing touch.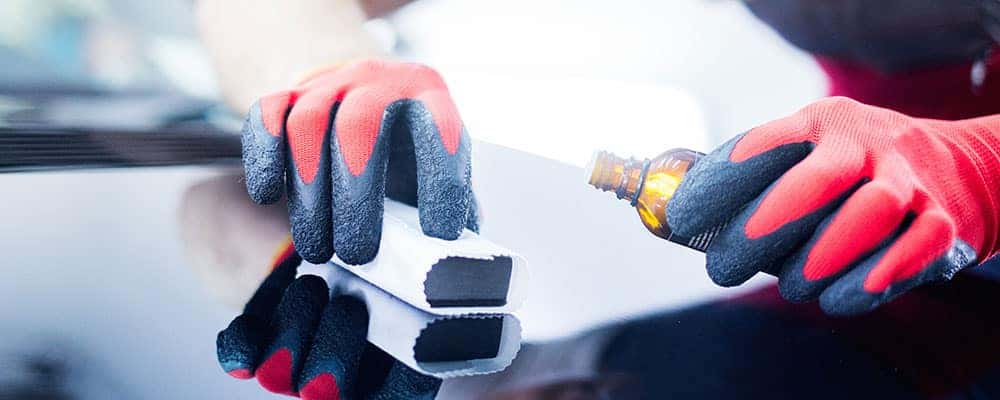 Can You Use Windex on Car Windows?
You can use Windex on car windows safely. If you have tinted windows, you may want to use it cautiously just to be safe, but there is not much evidence that Windex damages tinted windows. If your windows have been tinted by a third party, avoid Windex to be on the safe side. Windows tinted at the factory should have no issues with Windex. If you're using Windex inside the car, be sure to avoid getting it on your leather seats. Windex can discolor the leather in some cases.
Additional Car Windshield Cleaning Tips
If you still notice a few spots on your windshield after following the steps above, these tips may be able to help:
A microfiber cleaning cloth eliminates the small paper fibers you get when cleaning with paper towels. They're also less likely to leave streaks.
To reach the corners of the windshield, use a reach-and-clean tool.
When using a microfiber cleaning cloth, use a circular motion to clean the windshield. Remember to wipe vertically once this step is done to eliminate streaks.
If you need to clean the other windows inside your vehicle, you can follow the same steps described above.
BMW Concord Near Walnut Creek: Your Car Care Experts
For more car care tips, contact our service department today. Whether you need a routine oil, brake repairs, suspension repairs, or need help programming your BMW key fob, we have you covered! Our customer service team is happy to answer any questions you have to ensure your vehicle remains in pristine condition for many years to come.
Save on Service
We are currently updating our Service Specials. Please check back soon.
Learn More with BMW Concord
The 2019 BMW X3 can tow up to 4,400 pounds, so you can take more with you on camping trips, big moves, or days out on the water. Learn more about BMW X3 towing at BMW Concord, including specs and features that make for better towing on Walnut Creek roads. Then contact your local authorized BMW retailer…

The fastest production car in the current BMW lineup is the M5 Competition, which can accelerate from 0-60 mph in 3.1 seconds. The BMW luxury brand offers a wide range of fast cars from coupes to SUVs–learn more about BMW 0-60 times to find out how fast you can take your BMW on the Walnut Creek…

Whether you have a new BMW sedan like the 4 Series or you are thinking about purchasing a new BMW X5, you'll want to be prepared for any eventuality on Walnut Creek roads, and know what to do if a dashboard light turns on. Check out our guide to BMW dashboard warning lights at BMW Concord to know…